New 'veto' announced for English MPs - BBC News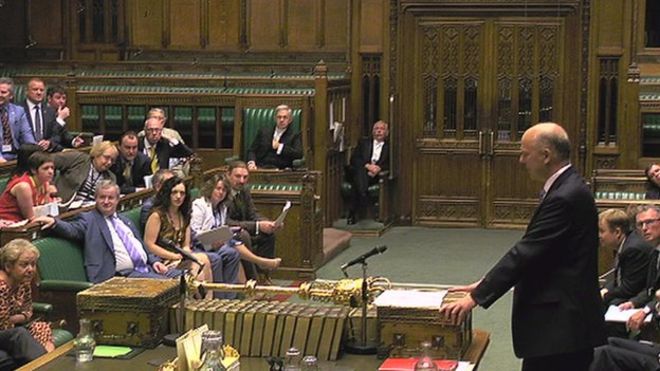 The government will give MPs from English constituencies a new "veto" over laws affecting England only.
Commons Leader Chris Grayling said the change, also applying in some cases to Welsh MPs, would bring "real fairness to our constitutional arrangements".
SNP leader Nicola Sturgeon called the plan "staggering in the extent... of its hypocrisy and incoherence".
Labour said it was an "outrage" that ministers wanted to rush into making "profound constitutional change".
Shadow Commons leader Angela Eagle said the plans risked creating two classes of MPs and accused the Conservatives of a "cynical" attempt to "manufacture itself a very much larger" majority in the Commons.
Under the
proposals
, all MPs would continue to vote on all key stages of legislation.
But English MPs - and in some cases English and Welsh MPs - will have a veto in Westminster when debating matters that have been devolved to the devolved administrations.
......................
.........................
His party leader Nicola Sturgeon said: "The Tories have produced a constitutional shambles - staggering in the extent of its hypocrisy and incoherence.
"Under these plans - which are all about cutting Scottish MPs out of votes which impact on Scotland and our budget - the Tories are proposing an 'English veto' and 'double majority'.
"I have been very clear that, at least in part, the level of support for independence will be determined by what the Tory government at Westminster does, as well as what the SNP Government does. And there is no question that the great disrespect shown to Scotland in these proposals is likely to have more people asking whether Westminster is capable of representing Scotland's interests at all."
Labour's Sir Gerald Kaufman, the father of the house, said the title of the motion, English votes for English laws, "sounds racist".
He added: "This government is undermining the whole basis of British democracy, right through from when the Magna Carta was signed."