Arab Spring 2.0? Protests after Tunisian journalist calls for revolt, sets himself on fire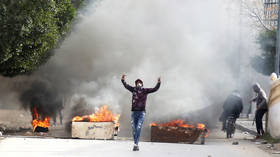 A journalist in Tunisia – the first country to face the Arab Spring – has set himself on fire, triggering a protest against unemployment and poverty. The case resembles the start of the 2011 Western-hailed revolt.
"For our people who have no means of subsistence, today I start a revolution," journalist Abderrazak Zorgui told his audience in the poverty-stricken town of Kasserine.
Calling for people to rise up against poverty and poor living conditions, Zorgui then set himself on fire, invoking the well-known self-immolation of street vendor Mohamed Bouazizi in late 2010.
Zorgui was soon pronounced dead at a local hospital, and his funeral service quickly snowballed into violent protests in Kasserine and other towns. Kasserine, home to 76,000 people, saw clashes between stone-throwing protesters and police who deployed tear gas to disperse crowds.
Tunisia's Interior Ministry said several arrests were made in connection with the protests and property damage. Meanwhile in Kasserine, local authorities said an investigation into the death of Zorgui is under way.