Monday, 29 February 2016
Understanding Patriarchy
:
By
bell hooks
/
filmsforaction.org
Patriarchy is the single most life-threatening social disease assaulting the male body and spirit in our nation. Yet most men do not use the word "patriarchy" in everyday life. Most men never think about patriarchy—what it means, how it is created and sustained. Many men in our nation would not be able to spell the word or pronounce it correctly. The word "patriarchy" just is not a part of their normal everyday thought or speech. Men who have heard and know the word usually associate it with women's liberation, with feminism, and therefore dismiss it as irrelevant to their own experiences. I have been standing at podiums talking about patriarchy for more than thirty years. It is a word I use daily, and men who hear me use it often ask me what I mean by it.
Sunday, 28 February 2016
Short films highlight London housing crisis: 'Coming from the high rises, there was no other option but to rise high' | Cities | The Guardian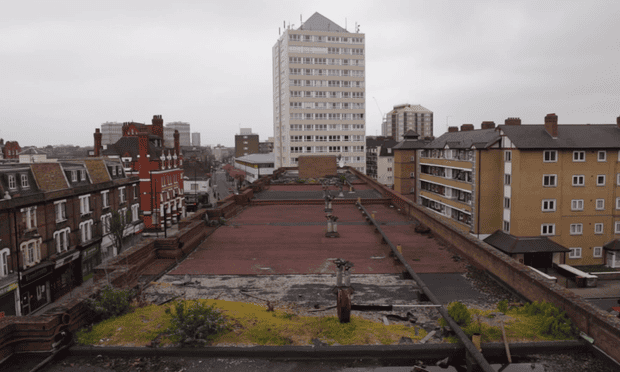 London is experiencing a housing crisis
. In the call for more truly affordable places to live in the capital, whose voice will be heard? David Lammy, Labour MP for Tottenham and mayoral hopeful, believes giving a platform to London's residents will help articulate this critical issue.
That is what Lammy has done with
Fourwalls
, a short film project he established last year inviting Londoners to showcase the reality of housing in the capital through three-minute films. Last week, the project's jury of housing and film industry experts shortlisted 10 submissions and picked one winner; all were screened at the
London Short Film Festival
.
The films explore the varied experiences of living in
London
, shedding personal light on the the challenges and changes of residing in the capital – from gentrification and squatting to sub-letting and government repair programmes.
We've rounded up a few of our favourites below – you can see the other shortlisted films
here
.
'I feel I'm being forced out': London billboards highlight stories of relocation | Cities | The Guardian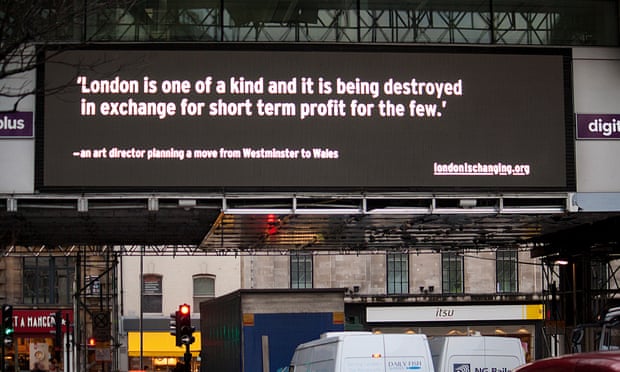 This article is
1 year old
If you are relocating out of London, how do you feel about it? Bitter, excited, saddened or relieved? These were some of the responses
we collected from our readers as part of the London is Changing campaign
, an effort to capture and bring to light the stories of people moving to, within and away from London – out of choice or necessity – as well as reflect on the impact of these patterns of migration.
The project is designed by Dr Rebecca Ross, senior lecturer and MA Communication Design course leader at Central Saint Martins, in collaboration with Outdoor Plus. Over the last week, some of the responses gathered have been featured on digital billboards in the centre of the capital, and will continue to show until Wednesday 25 February at The Eye Holborn and City of
London
Gateway.
"The digital technology afforded the opportunity to facilitate a city-wide dialogue about the socio-economic changes underway in London and display the voices of individuals impacted at a monumental scale normally reserved for large corporations," explains Ross.
While some stories of leaving London speak of opportunity and optimism, many express the deep frustrations and disappointments at how increasingly unaffordable housing in London is forcing people to leave their neighbourhood – or the city – against their will:
I miss my hometown every day and so does my son. My family lived in London for generations. Pretty much all my friendship group has moved out and dispersed – mostly priced out. I miss my people. And I miss places too – a solitary walk on Hampstead Heath was always my solace in tough times. And now I have those tough times, but no place to soothe them away. I'd move back in a heartbeat if I could. And it breaks my heart that I never will.

- A PhD student moving from Camden to Sussex
Edible Agroforestry: Designing Your Own Food Forest | The Mind Unleashed
Agroforestry is the combination of crops (plants, animals, fungi) and trees in forest-inspired agricultural systems that benefit human communities through a greater connection to landscapes, improved stewardship of resources, and enhanced economic opportunities.
Current edible agroforestry research is extensive, but specific planting layouts are sparse and typically focus on only a handful of species and techniques. Without design examples of best-practices, growers are confronted with a huge barrier of time, money, and risk associated with researching planting configurations, estimating implementation costs and payback, and experimenting with planting techniques.
The "Edible Agroforestry Designs" document provides design templates of edible agroforestry practices to aid growers with the design, implementation, and management of environmentally-beneficial
ecosystems that support personal income and community needs.
It was a bad week for freedom of speech in the UK, here's what you missed | The Canary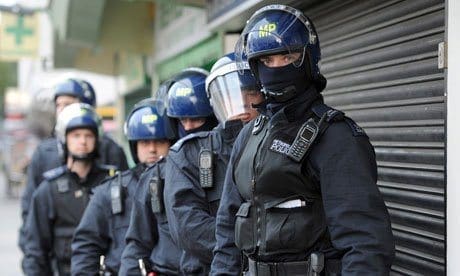 Theresa May has announced a
host of measures
to tackle the "unprecedented threat" she believes we face from "extremism." These include creating a register of all those convicted of extremism or terrorism offences, similar to the
system used for sex offenders
, meaning those included will automatically be banned from working with children or vulnerable people. The proposals will also look at how extremists can be prevented from working for all public bodies and charities.
However, as
discussed previously
, Theresa May is reluctant to define the term extremism, and if you've ever considered taking any political action outside of the law, no matter how minor the infringement, you could be included. In other words, it is possible you could be arrested for blocking the road at a protest, be convicted of highway obstruction – an offence so insignificant it doesn't show up on a DBS check – but still be on the register because you have a conviction for "extremism".
This may sound like scaremongering. However, it's important to look at how far the state is prepared to go in silencing and repressing dissent. This week, Dr Jiang, a survivor of
Tiananmen Square
, was
"brutally manhandled"
for holding up two signs and standing in the road attempting to block the motorcade of Chinese Premier, Xi Jinping. Following his arrest, he was detained overnight, his home was raided and his computer seized. His wife stated:
The police here in the UK are now doing the same things as in China.



Saturday, 27 February 2016
Earth Circus productions Evolution cabaret fri March 25th 7 pm till late @hivedalston 260-264 Kingsland Rd E8 4dg Haggerston overland station.
DJ Pony -Small World-Ghetto funk and Soul,DJ Solarquest,Antarma,DJ Firebird,Equador the Wizard,Rob the Rub,Tonality-acoustic R n B,Fahad Khalid Sufi Quwali music,Kran 'B' -Slackline,exotic dancers,Jugglers,healing space,stalls,evolutionary talk David Graeber-Occupy Wall st. "The evolution of Social movements.check Evolution Cabaret Time for Solutions event on FB.Network it,spread the word,a night of magic and music not to be missed.one love phoenix
Positive Frequency, Saturday 27 February, Techno/House/Acid,
2300-0800
. Info line:
07453525538
. See you tonight. One love! Peace!
Come join us tonight 7-11pm @Hive for "live absurd cabaret"; music, poetry, puppetry from artists who are Fund-raising for countercurrents.org Steel cello; Egyptian belly dancing; back pipes and stand up; singer song writers; film projections; live performance.NOT TO BE MISSED!
Hot food served, bring yr own bottle. £10 entry/ £5 Concessions.
Www.hivedalston.org.uk
Homeless man Daniel Gauntlett dies frozen on doorstep of empty bungalow in Aylesford
Homeless man Daniel Gauntlett dies frozen on doorstep of empty bungalow in Aylesford
by Chris Hunter
A tarpaulin, a pillow, a dirty old jacket, a carrier bag and a few worthless items strewn over the veranda of a boarded-up bungalow.
This is where homeless Daniel Gauntlett tried to find shelter through a bitterly cold winter and where, on a freezing night on Saturday, he finally succumbed to the cold.
Mr Gauntlett, 35, was found the next morning by a passer-by who spotted his body from the pavement.
His belongings still left where he died, residents in Hermitage Lane, Aylesford, reacted with sadness to the news and said Mr Gauntlett had become a familiar sight in the street.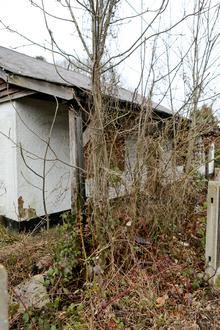 And they said the sadness was compounded by the fact he died outside an empty bungalow due to be bulldozed.
Police had reportedly been called previously after he tried to break into the bungalow. And so Mr Gauntlett, had taken the fatal decision to abide by the law.
Derek Bailey, 80, who lives next door, said Mr Gauntlett had not appeared to be in ill health.
"They took him up to the hospital about a fortnight before when they'd found him and social workers got involved," said Mr Bailey.
"It was just the bitter weather. I know a lot about cold weather because I was in the Canadian army. I've known it drop to minus 70 but the trouble with this country is the dampness."
Bitter conditions saw snowfall across the county on Saturday night, with temperatures of -2C exacerbated by windchill.
Another resident said: "He was a very nice man apparently. He used to ask for money but not for drink. He used to buy pasties from the supermarket.
"It was so sad. Especially when the houses are empty."
An inquest was opened and adjourned on yesterday and confirmed the cause of death was hypothermia.
Mr Gauntlett was the second homeless man to die in Aylesford last weekend.
Douglas Poynton, 45, of no fixed address, died at Forstal Cottages in Forstal Road, on Saturday. The precise medical cause of death is yet to be established.
Squatting: outlawed but more relevant than ever | News | The Guardian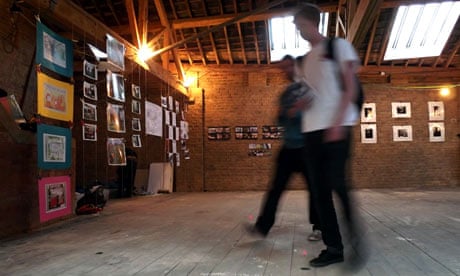 A year after the
criminalisation of squatting
in residential homes, an exhibition - held, appropriately, in a handsome squatted building in east London - has opened to celebrate the history and continuing relevance of squatting in the capital.
Made Possible by Squatting
challenges the everyday media myths and misconceptions of squatters and shows their artistic, intellectual and historic value in a clean and friendly space. "We wanted to tell the story of squatting on our own terms and to celebrate it," says one of the organisers, 31-year old gardener William Ronan.
The show - attended on its opening night by an eclectic a mix of young and old, parents and carers, Punks, Goths and Suits - collects photographs, audio, paintings, film and information from a range of periods and places over the last hundred years.
Adrian Nettleship's 'Occupy and Explore'
was a particularly heart-warming interactive project giving users the chance to explore a squat and meet the people in it using photography and audio.