'Stop war': Thousands protest in Japan over military expansion law change — RT News
'Stop war': Thousands protest in Japan over military expansion law change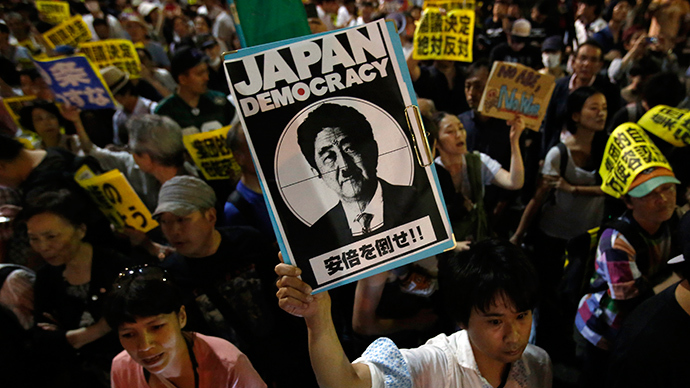 Thousands gathered outside the Japanese prime minister's office to protest constitutional changes that would expand Japan's military role and allow overseas deployment. It comes one day after a man set himself on fire in protest against a proposed law.
Protest organizers have estimated that 10,000 people – including students, pensioners, and women – attended the rally outside Prime Minister Shinzo Abe's office in Tokyo. However, police put the number of participants at "several thousand."
The demonstration comes on the eve of a cabinet meeting, where lawmakers are expected to endorse a resolution that would expand the use of Japan's military by reforming the constitution.
Chanting "Don't destroy the Constitution" and "We absolutely oppose reinterpretation of the Constitution," as well as "We don't need the right to collective self-defense," demonstrators expressed their opposition to what they say is a "historical turning point," the Japan Times reported.