http://www.occupy.com/article/freer-ive-ever-been-squatted-eco-village-overshadows-royals-magna-carta-celebrations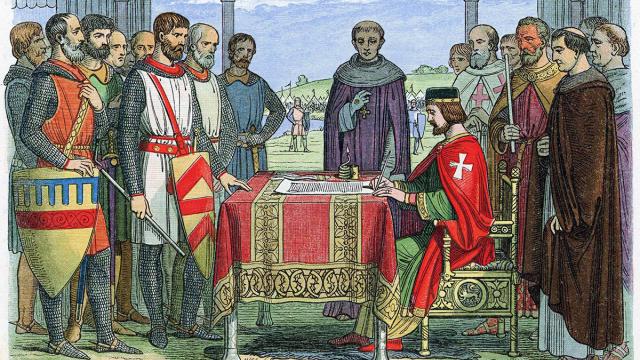 Britain's unelected head of state, Queen Elizabeth II, will host an exclusive event to mark the "first steps towards modern democracy" at Runnymede on the western outskirts of London on June 15.
800 years ago, Elizabeth's 18th great-grandfather King John was compelled by rebel Barons and an army of commoners to seal the Magna Carta, a document viewed as central in the principles of civil liberties across the world. Next door to the 21st-century pomp and ceremony, commoners will come in their hundreds for a free festival calling for real democracy that lasts the entire weekend.
"The official ceremony is about whitewashing democracy with their history of the Magna Carta, whilst they remove our remaining liberties," says Phoenix, a member of the Runnymede eco-village that is hosting the alternative event called Festival for Democracy, with the support of Occupy Democracy and the New Putney Debates.
Phoenix describes how the human rights gains that began with the 800-year-old document have steadily been removed with new legislation in the UK. With the end of legal aid, there is no longer equal access to justice, he says; extra rendition has also removed people's rights to justice through the law. Meanwhile, the criminalization of squatting removes historic rights to housing for the vulnerable.
- See more at: http://www.occupy.com/article/freer-ive-ever-been-squatted-eco-village-overshadows-royals-magna-carta-celebrations#.dpuf