Spit hoods to be trialled by Met Police - BBC News
Spit hoods to be trialled by Met Police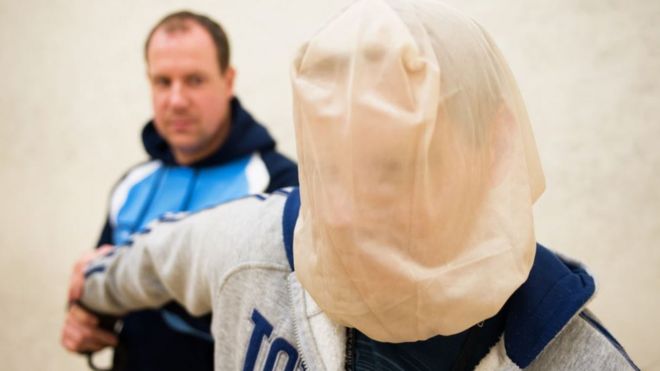 Controversial spit hoods are to be trialled by the Metropolitan Police.
The mesh fabric hoods are placed over the heads of suspects to protect police officers from potentially being spat at or bitten.
The restraining device is to be trialled at 32 custody suites across the capital from October.
Liberty, Amnesty and Inquest are among the Human rights groups to speak out against them, saying they belong in "horror stories".
"A spit hood is a primitive, cruel and degrading tool that inspires fear and anguish," Martha Spurrier, director of Liberty, said.
"Police have the power to use force against citizens when they have to - using handcuffs, arm restraints, leg restraints, pepper spray, batons.
"The suggestion that officers need to be able to cover people's faces and heads is as far-fetched as it is frightening.
"Spit hoods belong in horror stories, not on the streets of a civilised society - we urge the Met Police to think again."