Tax exile Guy Hands linked to Sweets Way estate evictions | Society | The Guardian
Guy Hands
, a tax exile and one of Britain's top private equity investors, has emerged as the controlling party behind a property business that has evicted dozens of families, many of whom were previously homeless.
Hands runs a multi-billion-pound investment house,
Terra Firma
, which acquired Annington, one of the UK's largest private owners of residential property, now poised to bulldoze 142 homes on Sweets Way estate in north London. They were being used by a housing association to accommodate families on Barnet Council's waiting list, but under Hands's control, Annington plans to replace them with 229 houses and flats for sale on London's booming property market and 59 "affordable" homes.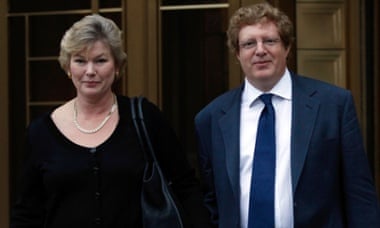 Hands, 55, and his wife, Julia, are together estimated to be worth £250m, according to the Sunday Times Rich List. The Guernsey-based investor is close to William Hague, the former Conservative party leader who was best man at Hands's wedding.
Parents and children have said the evictions have torn their lives apart, and they have launched a fightback against what they claim is "social cleansing". At least 45 of them were granted homes on the estate only after declaring themselves homeless, and some have said they now face that prospect again.