Homeless single people should get more help - Supreme Court - BBC News
Homeless single people should get more help - Supreme Court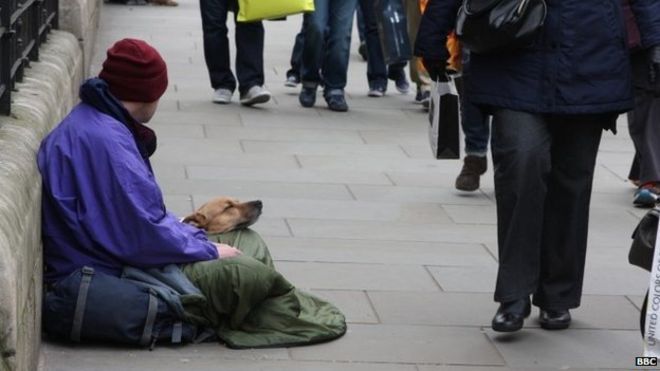 The Supreme Court has said that councils must do more to help single homeless people, in a landmark ruling.
The court found that local authorities were failing to recognise homeless people in vulnerable situations.
Ruling on the cases of three homeless men, the court found that one, Patrick Kanu, was wrongfully denied care.
The court said councils assessing the needs of single homeless people should compare them with an "ordinary person" rather than another homeless person.
The decision will change the "vulnerability test" by which councils decide which homeless people should be provided with housing.
Not a priority
Before today's ruling, councils assessed potentially vulnerable people by comparing them with a so-called "ordinary homeless person".
That led to situations in which single homeless people suffering from problems including depression and suicidal thoughts were deemed not vulnerable because an "ordinary homeless person" might be expected to suffer from those problems.
The comparison meant that Mr Kanu was deemed not to be a priority for housing assistance when he applied to Southwark Council last year, despite suffering from "multiple physical problems as well as psychotic symptoms and suicidal ideation".
Mr Kanu - along with two other men, Craig Johnson and Sifatullah Hotak - took their cases to the Court of Appeal but the court upheld the decisions made by Southwark and Solihull councils.
All three men then took their cases to the Supreme Court, which found on Wednesday that Mr Kanu should have been deemed a priority. It ruled that Mr Johnson and Mr Hotak should not have been, but suggested that Southwark council look closely at its protocols with regard to Mr Hotak.
The change in the "vulnerability" assessment will lower the bar for those suffering from various problems and clear the way for them to be given priority status by their local council.
'A major step'
Giles Peaker, a partner in the housing department at Anthony Gold Solicitors, told the BBC it was the "most significant judgement in homeless law on vulnerable people in the past 10 to 15 years".
"The ruling makes it more likely that vulnerable, single homeless people will have their vulnerability taken seriously and it clears the way for them to go into priority need," he said.